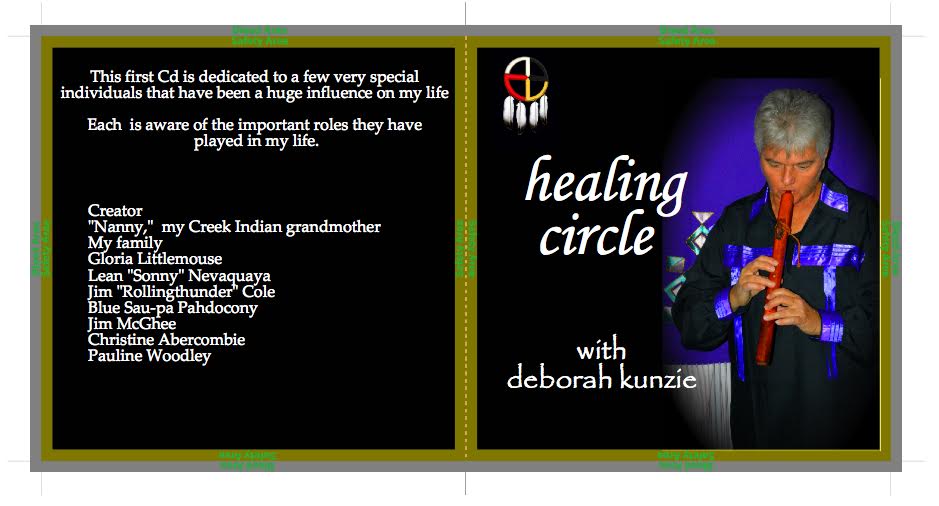 The story is remarkable and almost unbelievable but true. The flutes have been an inspiration and a huge healing for my soul and my journey. 
Two days after I received a beautiful Lacewood Flute, gifted to me from a friend at the time, I began playing. No lessons, no one to show me how I just played from my heart with such ease and sense of belonging.
I know when Creator gives you a gift, He also gives you the ability to carry out that calling. Within two weeks I had 10 songs. Within six weeks, the stack of CD's was delivered to my door and became available on iTunes, Amazon and Barnes & Noble, and on this website for purchase. The gift of the Native American Flute and the music is the most penetrating and source for healing than anything I have ever known. It is my hope that my music gives the listener the healing and comfort they are searching.
WHERE TO PURCHASE

Amazon
itunes
Reviews and comments 
 "I love your CD.  Thank you so much for the gift of it.  I'm listening to it right now.  So restful and yet haunting.  You play beautifully.   I will think of you from now on when I listen to it as I'm doing my yoga."
~ Eileen Goudge, one of the nation's most successful authors of women's fiction.

——————————–
"I put your CD on yesterday morning and listened to all the tracks as I did my stretches.  Very calming & peaceful.  I also enjoyed the notes you included with the CD with some information about how you got the title for each melody.  I am in awe that you can play with such ease & competence after such a short involvement with the flute.  I hope this venture will bring you many years of joyous celebration and sharing.  THANK YOU for the gift of you and your music!  I look forward to listening to it more and more."  
~ Laurie Wagner Buyer, Poet, memoirist, and novelist.
——————————–
"I listened to your whole CD and went to your read about how you came to the Native American Flute and how you started your photography as a child. Your grandmother was a Patriarch in your life. I loved that story. I wanted to read more. You always had that gift in you and your grandmother made you realize how special you really are. That is why your songs on your CD are so moving to my heart and spirit. I put it on surround sound and Oh My that is the only way to listen to it. It fills the room with your beautiful Music and now I understand why you call your CD the Healing Circle. It will definitely touch everyone's spirit..it will heal whatever they are needing that day. I love your music, Deborah. Cannot wait to hear more of it. Waiting for the next CD to come out. I hope everyone buy this CD… You will not be disappointed."
~ Chris Abercrombie
——————————–
 "I just wanted to "Thank You" for the amazing Cd's you sent to me recently. My clients absolutely love the music as they relax during their massages. The Cd's were recommended to me, by Eileen Goudge… and I've already thanked her. Thank you again for sharing your wonderful gift of music with us. I am so enjoying your masterpiece…."
~ Love Light & Gratitude – Karla
Healing Circle Notes
Below is a few short notes about each song on this CD. 
1. Elders – I learned many things of my past from my Full-blood Native American Grandmother. This song is in remembrance of her life and all the elders of long ago. 
2. Navajo – Many good things have come to me by way of a dear Navajo friend. This song is dedicated to this special person. 
3. Redwing – Imagine the soaring Red-tail Hawk as the sunlight shines through its beautiful feathers. 
4. Risen – Much of my healing came from the fact that our Creator rose from the dead and is here in my spirit with guidance and clarity. 
5. Sweetgrass – The sweet aroma of burning sweetgrass is both comforting and healing. 
6. Windstream – The movement of water to the sound of the flute. 
7. Trickster & The Flute Player – A struggle between good and evil until the good wins near the end of the song. 
8. Windshift – It turns, it sways and it drifts over our spirit. 
9. Mama Calling – Dedicated to my precious mother. My heart breaks not being with her at all times, but I am with her in spirit and thought. 
10. A Dance for Love – Nature and wildlife dance to their own music in hopes of bonding with a special mate.
More Reviews
Warm drinks and healthy snacks will be available during the first hour of presentations.  Following a short break, attendees will be encouraged (but not required) to take part in a group meditation to Native American flute music ("Healing Circle" CD by Deborah Kunzie). The last half hour of the program will be opened up for discussion so that participants can ask questions of the speakers.
~ "Mediation and Me," the Wellness Workshop
What a nice surprise to get the flute music tape.  Thank you so very much.  I have been feeling the need to do meditation and you have provided the perfect vehicle.  Again, thank you."  …
The Deborah Kunzie CD "Healing Circle" was here waiting for me when I returned from scattering my Dad's and Marta's ashes in San Francisco Wednesday night. What perfect timing! 
~ Page Lambert
I received your package with Deb's flute CD.  I hurried for a reason to go to town and put it in the car player.  She does a nice job with her music.  You said she had found her way and is now embracing her Native American heritage.  Good for her and thank you for thinking of me and sending this.
~ Missy
I listened to your CD again on the way back from a gig last night. We're proud of you.
~ W.C. Jameson
I just listened to the CD while walking through the snow on a gorgeous Colorado bluebird day. What a lovely, clear and pure sound. Thank you for the experience of your new devotion and dedication. I plan to share the CD with some of my Mystery School apprentices, and certainly, as a guided imaging induction process with some of my patients.
~ Marcie Telander
"The Native American flute is an instrument of limited notes. Finding a musician that can use that limitation to create a vast landscape of mood and texture takes a unique talent. Ms. Kunzie has created a deeply soothing place of rest as she delves into her heritage and outside of the restrictive commercial boundaries of the music industry. An emerging artist such as this, honoring old traditions while heading into the future of new musical expressions, will certainly continue to shine brightly. I have given it a four-star rating rather than five because I know this artist will continue to excel and grow in her technique and creativity and I, for one, will look forward to the process!"
~ Susan R. Stoltz
Congratulations Deborah Kunzie – Native American Flutist, yesterday was unbelievable sitting there listening to you play, and hearing so many people say the music sounds so healing. What a perfect title! As a nursing instructor, I will definitely use this music with my next class, and for the meditation portion of my conferences. Thank God for this beautiful gift you have received to help me, a health care professional, help others. Ahe Hee!
~ Gloria Littlemouse
Deborah –
 May God's grace and peace abide with you!
Thank you for your thoughtful gift of your music  .  .  .  We used it for meditation during the Easter Triduum at the Kateri Community.
I liked it very much.  Easy to pray with.  I especially liked hearing you play the different flutes  .  .  each seemed to touch a different place inside.
Congratulations on your work and great gratitude for sharing your gifts with me and others.
Un union of prayer,
 ~ Fr. Tom
Save
Save
Save